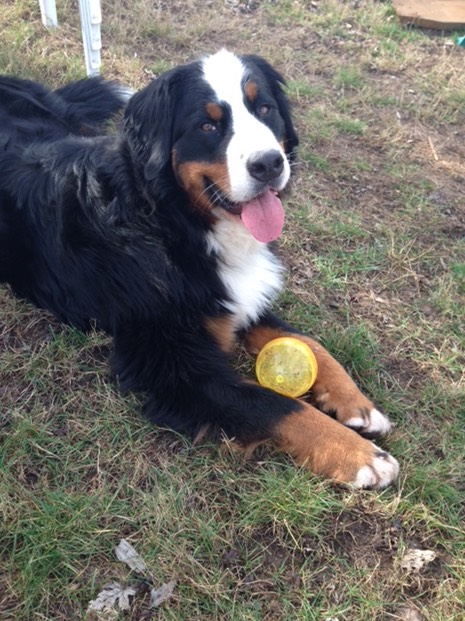 Scarlett is not in rescue, but we are trying to help her owners find the best home for her.
Below is her owners evaluation:
Scarlett
A few notes:
Scarlett is one of the sweetest dogs I've ever known. She only wants to love. I feel so bad for her not receiving the socialization that she needed as a puppy. Now she is very fearful of anything new.  She knows how to sit, lay down, and paw. She waits for the "ok" for her food.   She loves to be brushed. She loves snuggling on the floor and will "nibble" when she is happy or excited to see you.  Loud bass from music (off in the distance) scares her and children playing outside (our neighbors) scare her as well. I think she needs a quiet neighborhood.  She walks well on a leash but only recently has been letting us take her out again. She really likes other dogs. Every time she sees one she wags her tail and wants to play. It Would be nice for her to have a doggy friend she could play with all the time.  She likes toys but doesn't play fetch. She likes you to roll the ball or bounce it along the ground. She loves little toys- I haven't had a single notion yet that she would eat them.  She is currently on Paxill and Clonidine for her anxiety and fear- the combo seems to be working better now.  She is super good about being left alone. She has never chewed anything up or had an accident in the house (except once when she was scared when we first got her). She LOVES her kennel. Whenever she is nervous she finds comfort in laying in her kennel. It is her safe spot.  She has never shown interest in being on the couch or our bed so we have never asked her to come up. This means she doesn't ever climb up. She prefers to lay at our feet on the carpet.  Scarlett is a tough dog to bathe.... We have to have patience and treat her into the shower since she knows what we are doing and doesn't want to go- once she's in the shower she is fine (just getting her there takes time). I also express her anal glands about every week to every other week. She seems to need it that often.  She also does not like going in the car- it takes lots of treats to get her even near the open door.  Our ideal family for Scarlett Bear would be someone that spends a lot of time at home, Doesn't expect her to go on long walks or hiking, has another dog, doesn't have small children (scare her), can afford her meds, uses positive training, and lives somewhere quiet.
She is great with cats... However one of our cats really doesn't like her even after a year's time.